BBL Survival Kit
We are excited to introduce Dr. Cole's BBL Survival Kit. This kit contains all the essentials you will need after your Brazilian Butt Lift surgery!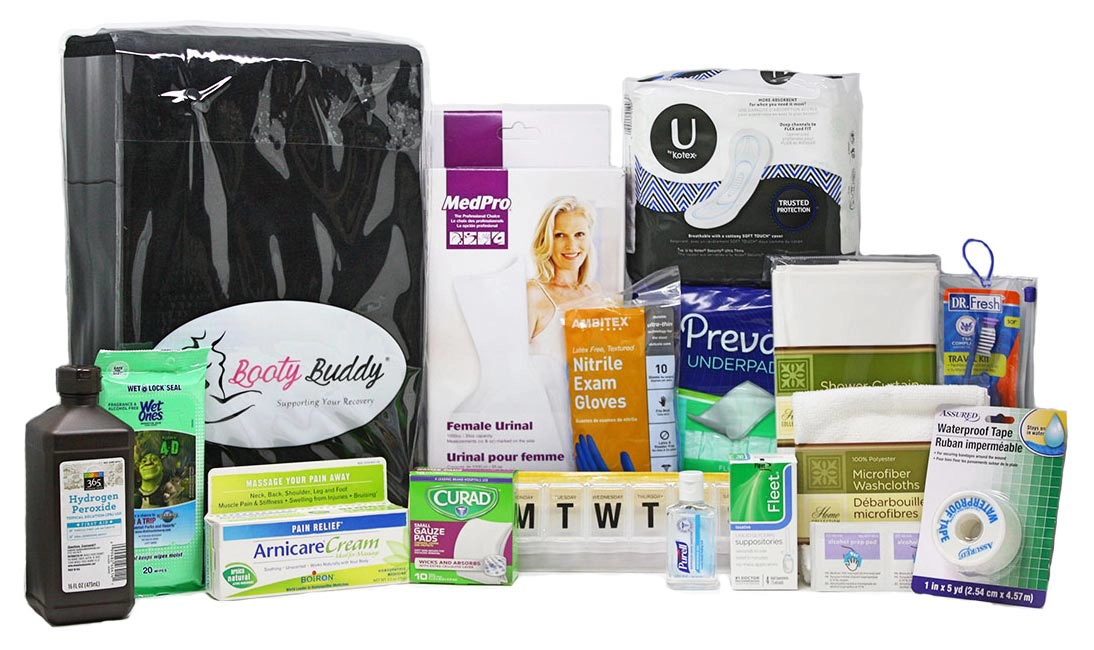 Booty Buddy Brazilian Butt Lift Pillow ( Qty:1)
The Booty Buddy seat cushion works by supporting your thighs which enables your butt to hang free when seated with no pressure added. This super strong flocked cushion not only soft, but firm enough to give you the support you need to help you keep off your butt.
Shower Curtain ( Qty:1)
A shower curtain is needed for an extra level of protection for your bed mattress
Arnica Cream (Qty:1)
Relieve post-procedure pain, bruise discoloration and swelling
Hand Sanitizer ( Qty:1)
Used to stay sterile
Gauze Pads( Qty:1)
To cover the addits
Large Bed Pads( Qty: 15 Pads)
The large bed pads can be used after your surgery to absorb any fluids to provide protection against bed wetting.
Exam Gloves: (Qty: 10 gloves)
Disposable exam gloves are a great barrier protection against infection and contamination
Wet wipes (Qty: 20 wipes)
Toothbrush Travel Kit (Qty: 1)
Laxative Suppositories (Qty: 1)
Many times prescribed and over-the-counter pain medicines can cause constipation. Laxative Suppositories are used to relieve constipation
Surgical Tape (Qty: 1)
Surgical tape will be helpful to properly secure the pads on the addits
Hand Towels (Qty: 4)
Four super soft hand towels that can be used for hygene and to clean away the Dr.'s markings
Alcohol Swabs (Qty: 10 swabs)
Used to keep everything sterile
Pill Organizer (Qty: 1)
A pill organizer for storing scheduled doses of one's medications before and after surgery.
Maxi Pads( Qty:1)
Disposable pads of absorbent material worn on the surgical addits to absorb drainage from surgical wounds
Hydrogen Peroxide( Qty:1)
Female Urinal ( Qty:1)
The Female Urinal is an essential necessity for anyone who has had a BBL because it will allow urination without ever having to sit down
The cost is $225.
If you don't want the Booty Pillow but still want the kit, the cost is $120.
If you'd like your own kit, give us a call (770) 416-0000.